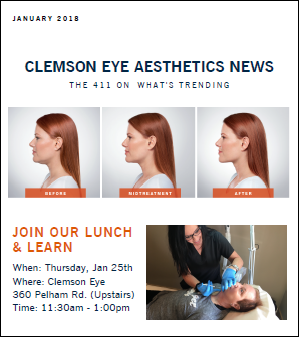 Clemson Eye Aesthetics News – January 2018
Clemson Eye Aesthetics News, January 8, 2018
JOIN OUR LUNCH & LEARN
When: Thursday, Jan 25th
Where: Clemson Eye, 360 Pelham Rd. (Upstairs)
Time: 11:30am – 1:00pm
Join us for a FREE lunch & learn on Kybella, the first and only injectable double chin treatment. Hear from our Allergan rep on how this treatment is used to permanently remove excess fat under the chin. Plus watch a LIVE DEMO! Those who attend will receive SPECIAL PRICING! Call 864-622-5005 to RSVP!
WHAT A DEAL!
Now for a limited time, take advantage of our permanent full lip color special. The permanent lip procedure is a very natural look for anyone who has lost the color in their lips and wants that color back, or for the appearance of beautiful full colored defined lips. Cost is $500. Consults are free.
"THE ENVIRONMENT AT CLEMSON EYE AESTHETICS IS WELCOMING AND THE STAFF PROVIDES THE SERVICE THAT GOES ABOVE AND BEYOND."
– DOROTHY SELF
WHAT TO EAT
Besides being one of the most potent sources of anti-inflammatory omega-3s, salmon also contains dimethylaminoethanol (DMAE). DMAE promotes healthy skin because it protects the integrity of cell membranes. Strengthening cell membranes guards against their deterioration that causes premature aging. DMAE works in conjunction with B vitamins to increases levels of acetylcholine, a neurotransmitter essential for proper muscle functioning that can keep your face looking toned and firm.