A Song Dedicated To Our Furloughed Staff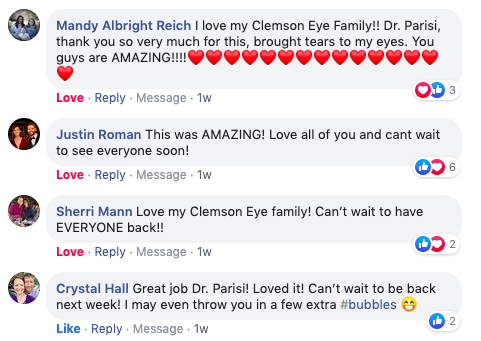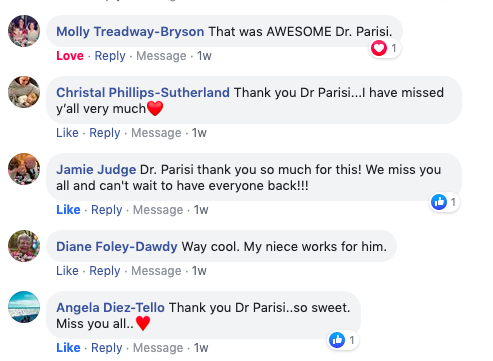 ---
Our Mission
We care for patients like family
We innovate and collaborate to make Clemson Eye the ideal choice for eye care
---
Clemson Eye's vision is to "transform lives" by offering innovative medical and surgical eye care. Located in beautiful Upstate South Carolina, we have twelve convenient office locations in Anderson, Clemson, Clinton/Laurens, Easley, Greenville, Newberry, Powdersville, Saluda, Simpsonville and Williamston. A positive patient experience of care has always been our goal. Having that experience in a non-institutional environment is important to us and it sets us apart from many other medical offices. For over 40 years, we have served a large and diverse patient population comprised of over 500,000 residents from Upstate counties from children to seniors. Clemson Eye has an outstanding reputation in the Upstate for advanced medical and surgical eye care. A strong local referring provider network of medical doctors and Optometrists send their patients to Clemson Eye for additional care. Clemson Eye is a well-established group of eye physicians and surgeons who pride themselves in offering patients the most innovative diagnostic services and treatments available.
Our doctors include eleven board-certified ophthalmologists: Joseph L. Parisi, MD, FRCSC, FACS, Brian R. Johnson, MD, Donald P. Glaser, MD, Alison Schutt Smith MD, Justin Roman, MD, Adam Easterling, MD, Jay Montgomery, MD, Keith Riddle, MD, Balaji Perumal, MD, Sreeni Basa, M.D , Nick Mclane, M.D and twelve highly-trained optometrists; Nancy A. Mahlie, OD; Eric Brown, OD; Justin Surratt OD; Kara Jo Dodgens OD; Sam Garrett, OD; Sarah Bopp, OD; Kenneth Sawyer, OD; Matt Stolz, OD; Diviyesh Patel, OD. Dan Haas, OD, Gregory Hasto, OD and Mason Munn, OD. Clemson Eye accepts most health care plans including Medicare, VSP and EyeMed. Additionally, Janice Sasser, FNP offers advanced medical aesthetic treatments along with a team of licensed aestheticians. Delivering a very broad scope of innovative eye care procedures and services, our physician support staff includes caring, well-trained, certified ophthalmic assistants, administrative assistants, and board-certified opticians.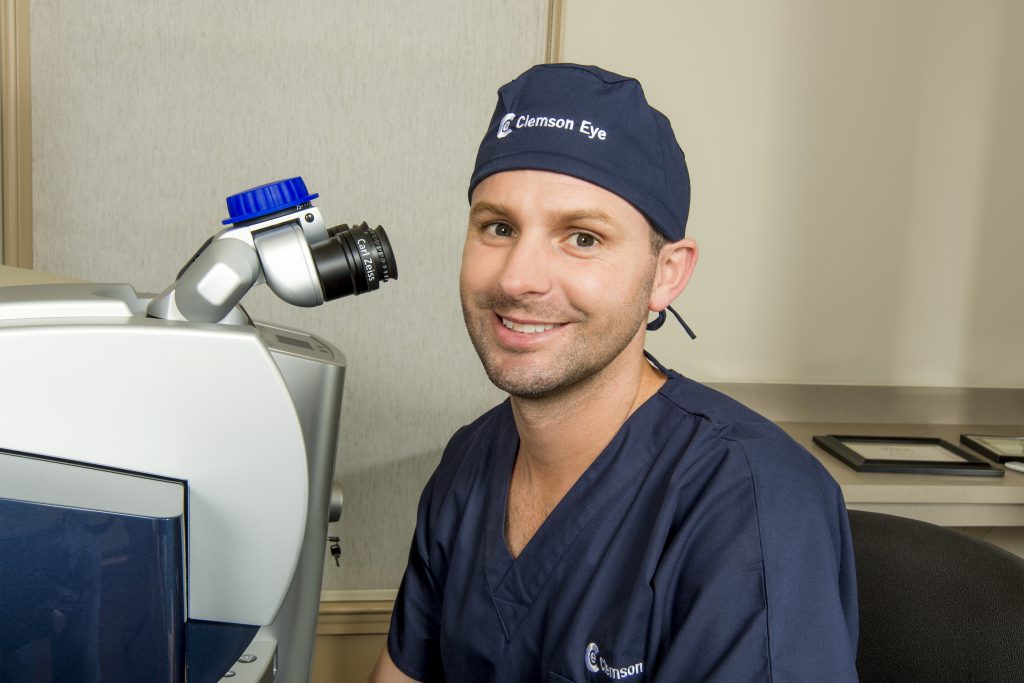 Our eye surgeons together perform over 6500 traditional and laser cataract surgeries each year offering advanced lens implants that provide freedom from glasses. They also perform comprehensive eye exams, treatments for eye disease like intravitreal injections along oculo-plastic procedures. The SLT laser and the iStent (a shunt used during cataract surgery) are both innovative treatments for glaucoma that can potentially free patients from the expense and bother of eye drops. Clemson Eye also offers free consultations for Laser Vision Correction Surgery, which includes the most advanced, Topography-guided Lasik, Implantable Contact Lenses, to treat loss of near vision for people over 40. Laser Vision Correction surgery is performed at our beautiful Greenville facility where patients sit up after the procedure and see the gorgeous Blue Ridge Mountains in the distance for the first time without glasses. Dr. Alison Smith is a pediatric ophthalmologist who specializes in treating children with "lazy eyes", cataracts, lacrimal duct problems, and more. Dr. Justin Roman is our cornea specialist, who specializes in the treatment of cornea external diseases. As an oculoplastics specialist, Dr. Balaji Perumal, MD who specializes in the diagnosis and treatment of functional disorders and cosmetic complaints involving the eyelids, orbit (tissue and bones surrounding the eye), and tear drainage system. Major Eye Surgery is performed at Piedmont Surgery Center, Cross-Creek, St. Francis in Greenville, and Surgery & Laser Center in Clinton. Clemson Eye also offers emergency call coverage for all our patients.
Advanced diagnostic technology is found in our Anderson, Clemson, Clinton/Laurens, Easley, Greenville, Newberry, Powdersville, Saluda, Simpsonville and Williamston offices. Medical and surgical eye care is highly technical, and to that end, we have numerous lasers used for cataract surgery (LenSx), glaucoma (SLT), diabetic eye disease, macular degeneration (Yag/Argon), skin rejuvenation and hair removal (Sciton) and of course Laser Vision Correction or LASIK (Wavelight EX 500Hz and FS200 Laser Suite). Other technology for diagnosing eye conditions includes Auto-Refractors, Wavefront Analyzers, Keratometers, Topographers, Automated Perimeters, Pentacam, OCTs, IOL Masters, Digital Fundus Photography/Angiography, Specular Microscopy, and more. Each office has a Minor Surgery Suite as well as a fashionable Optical Shop and Contact Lens fitting room.
Clemson Eye has offered medical aesthetic procedures for many years and expanded these facilities in 2016 with the addition of 4 treatment rooms and the Sciton Laser in Greenville offering the revolutionary Halo. Consultations are complimentary, so whether you wish to remove a wrinkle or protect your investment with great skincare products, you have come to the right place.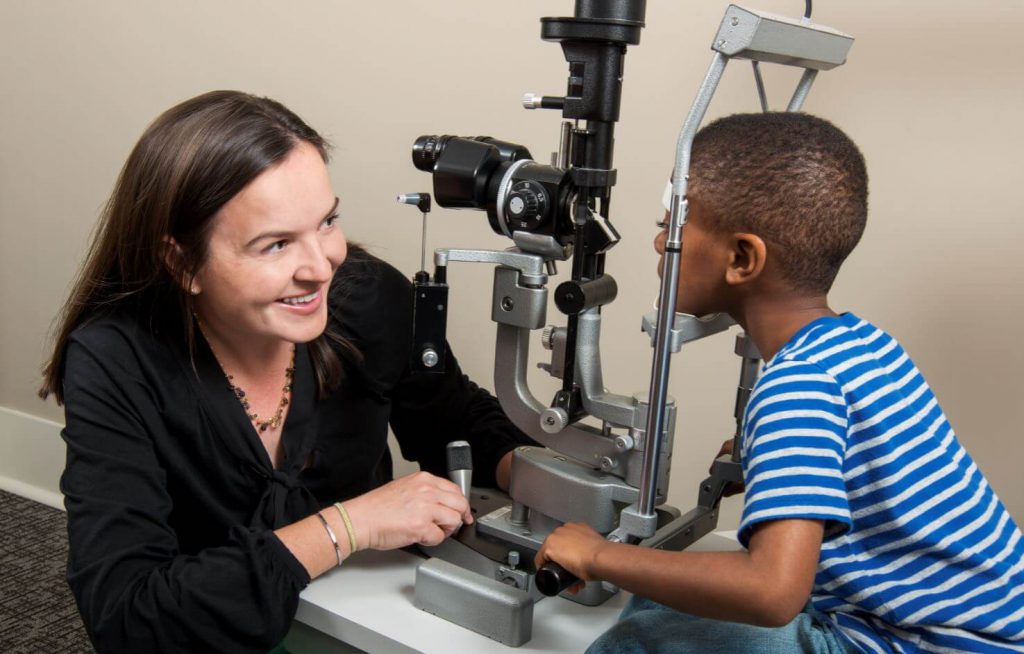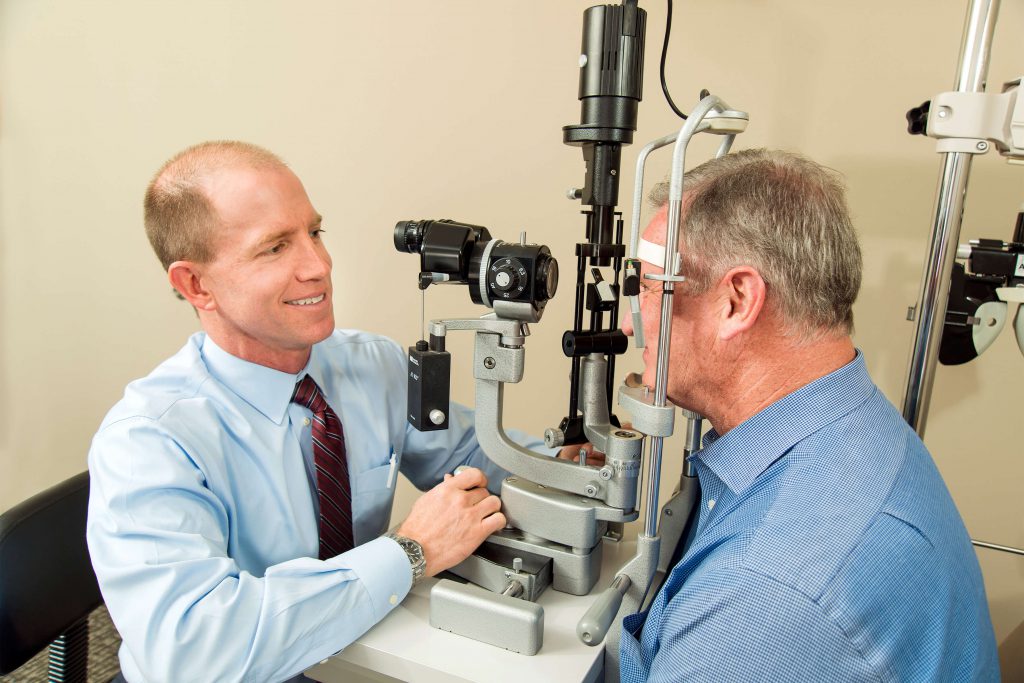 For more information call 855-654-2020 today or click here to schedule an appointment.