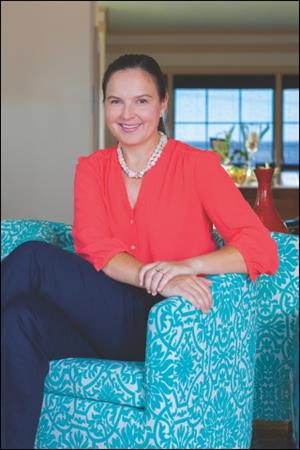 USC School of Medicine educator to lead Clemson Eye's new pediatric wing
Greenville, SC, December 2016
Dr. Alison Schutt Smith, associate professor at the University of South Carolina School of Medicine and pediatric ophthalmologist at Greenville Health System, has joined the Clemson Eye staff. The addition of Dr. Smith, a fellow in pediatric ophthalmology, will enable the practice to open a new pediatric wing at the Greenville facility.

"I was very enthusiastic and eager to join a practice that is so committed to providing excellent eye care for the entire family," Dr. Smith said.Dr. Smith interned and completed her residency in ophthalmology at the Case Medical Center in Cleveland, OH. She received a fellowship in pediatric ophthalmology and practiced at the prestigious Cleveland Clinic Cole Eye Institute until 2011. A passion for developing the next generation of physicians took her to Texas Tech where she was an assistant professor in the Department of Ophthalmology. In 2013, she joined the teaching staff at the USC School of Medicine, Greenville, and was a member of the pediatric ophthalmology department at GHS.
A renowned educator and researcher, Dr. Smith is a passionate advocate for better health care for the uninsured as well as an active volunteer and has participated in two medical mission trips to Mexico.
Dr. Smith has researched and published several papers on pediatric eye diseases and conditions, particularly strabismus and retinopathy in premature infants. Vision challenges in children often go unnoticed, but many can be corrected or significantly improved if they are diagnosed early. Strabismus, an umbrella for several conditions involving misalignment of the eyes, can be treated up until about age 12 while the brain is still developing.
The addition of Dr. Smith to Clemson's Eyes medical staff enables expansion to include a practice specifically geared to pediatrics. "We are committed to offering eye care for all, and treating young children and adults with lazy eyes is a very specific skill set," explained Clemson Eye CEO Mary Louise Parisi. "Dr. Alison Smith is a highly respected pediatric ophthalmology fellow with a great personality and generous heart. It's an honor to have her join the innovative doctors at Clemson Eye."
In addition to her professional expertise, Dr. Smith is also an experienced equestrienne who has competed for spots on the US Olympic Team. She resides, with her two sons, in Campobello, SC.
Clemson Eye has been a leading provider of visual health for Upstate residents for the past 40 years, providing them with comprehensive medical and surgical eye care, LASIK, and aesthetics services. Clemson Eye has four convenient locations in Greenville, Anderson, Easley and Clemson. Its American Board-Certified Ophthalmologists have performed more than 50,000 cataract, LASIK and microsurgical procedures.