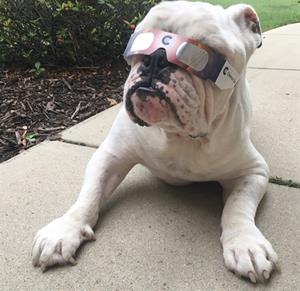 Can you (or your pet) go blind from the solar eclipse?
Greenville, SC (August 11, 2017)
If you have plans to watch the rare total solar eclipse that will cross the Upstate on Aug. 21, you will want to make sure you are fully prepared, especially when it comes to protecting your eyes.
Wherever you are in the Upstate, you are going to want to look up at the eclipse because this opportunity won't return for us until 2078. While that's ok, you never want look directly at the sun without proper safety eclipse glasses. Seriously, just don't do it. Dr. Joe Parisi, the Medical Director of Clemson Eye says "the only time you can look at the sun without protective glasses is when the sun will be completely covered by the moon (about 2 minutes). Otherwise, even a small glimpse of the sun's brightness can be dangerous. Looking directly at the powerful brightness of the sun can cause damage to the retina and can lead to loss of vision or even blindness."
But what about protective glasses for your pets?
"On a normal day, your pets don't try to look at the sun, and therefore don't damage their eyes. On this day they're not going to do it, either," said Angela Speck, director of astronomy at the University of Missouri, at a recent news conference with NASA about the August 2017 eclipse. "I'm not going to worry about my cat."
But there are still important things to know about how the solar eclipse could affect dogs and cats, including safety measures pet owners should take. Experts say that one thing we have in common with our pets is that human, canine and feline eyes can all suffer from "eclipse blindness" when safe precautions are not taken during the eclipse viewing. During the eclipse, as the moon's shadow starts to block the sun's light, some of the sun's fiery disk will still be visible. A view of that light can literally burn any eyes, human or cat or dog, that look up at it.
Pets don't necessarily need glasses, but it certainly wouldn't hurt. Pets, especially dogs, can become frightened during the eclipse so think about giving your dog a little extra love and take measures to ensure they don't run away. If you head outside, keep your dog on a leash.
Clemson Eye has been a leading provider of visual health for Upstate residents for the past 40 years, providing comprehensive medical and surgical eye care, LASIK, the Kamra inlay, and aesthetics services. Clemson Eye has four convenient locations in Greenville, Anderson, Easley and Clemson. Its American Board-Certified team of Ophthalmologists have performed more than 50,000 cataract, LASIK and microsurgical procedures.
Click here to read more Eclipse Safety information from NASA.