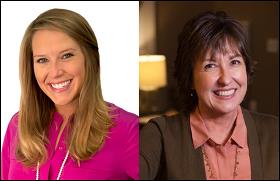 Clemson Eye welcomes new employees
GREENVILLE, SC – Clemson Eye welcomes Courtney Mitchell as Marketing Manager, as well as Karen Krulac as Cataract Patient Service Specialist.
In her role as Marketing Manager, Mitchell will be responsible for managing and coordinating day-to-day advertising and marketing activities. She is also directly involved in the development, implementation and tracking of the strategic marketing plan.
Prior to joining Clemson Eye, she worked as a Senior Media Buyer at Infinity Marketing in Greenville. She is a graduate of Lander University where she obtained a Bachelor of Business of Administration in Marketing.
As a Cataract Patient Service Specialist, Krulac will assist patients in selecting the best option for their cataract surgery and eye care needs.
Krulac formerly worked at Eating Recover Center as the Professional Relations Liaison and the Intensive Outpatient Program Coordinator, and is a graduate of Northern Illinois University with a Bachelor of Science in Biology.