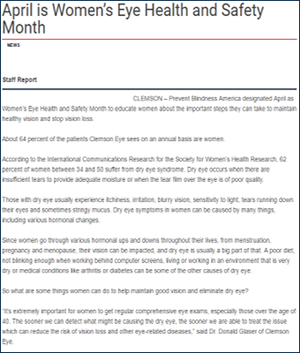 April is Women's Eye Health and Safety Month
GREENVILLE, SC, APRIL 2017
PREVENT BLINDNESS AMERICA DESIGNATED APRIL AS WOMEN'S EYE HEALTH AND SAFETY MONTH TO EDUCATE WOMEN ABOUT THE IMPORTANT STEPS THEY CAN TAKE TO MAINTAIN HEALTHY VISION AND STOP VISION LOSS.
About 64 percent of the patients Clemson Eye sees on an annual basis are women.
According to the International Communications Research for the Society for Women's Health Research, 62 percent of women between 34 and 50 suffer from dry eye syndrome. Dry eye occurs when there are insufficient tears to provide adequate moisture or when the tear film over the eye is of poor quality.
Those with dry eye usually experience itchiness, irritation, blurry vision, sensitivity to light, tears running down their eyes and sometimes stringy mucus. Dry eye symptoms in women can be caused by many things, including various hormonal changes.
Since women go through various hormonal ups and downs throughout their lives, from menstruation, pregnancy and menopause, their vision can be impacted, and dry eye is usually a big part of that. A poor diet, not blinking enough when working behind computer screens, living or working in an environment that is very dry or medical conditions like arthritis or diabetes can be some of the other causes of dry eye.
So what are some things women can do to help maintain good vision and eliminate dry eye?
"It's extremely important for women to get regular comprehensive eye exams, especially those over the age of 40. The sooner we can detect what might be causing the dry eye, the sooner we are able to treat the issue which can reduce the risk of vision loss and other eye-related diseases," said Dr. Donald Glaser of Clemson Eye.
Traditional treatment includes artificial tear drops and lifestyle changes, but there are some advanced therapies. During a dry eye exam, the doctor will check to see if the glands are releasing oil during the blinking process.The Lipiscan test provides an accurate digital image of the Meibomian glands and blink function. If the test shows the gland function has dropped off and there is 'Evaporative Dry Eye', then the doctor will recommend cutting edge treatment either with a LipiFlow or other therapies such as prescription anti-inflammatories, Restasis, Xiidra, omega-3 supplements, Avenova (lid antiseptic) or punctal plugs.
LipiFlow is the only electronic device cleared by the FDA for treatment of Meibomian Gland Dysfunction with clinical studies of safety and effectiveness. Through advances in the application of Vectored Thermal Pulsation technology, LipiFlow utilizes a patented algorithm of precise heat applied to the inner eyelids with directed gentle massage to remove blockages from the Meibomian glands. This treatment is designed to restore the natural oil flow to the tear film that covers the eye's surface and save the glands.
Overall, Dry Eye treatments may make a sufferer more comfortable and often improve the quality of vision. Women with symptoms of Dry Eye should visit an eye care professional specializing in Dry Eye treatment.
Click here to read this article on The Sentinel-Progress' website