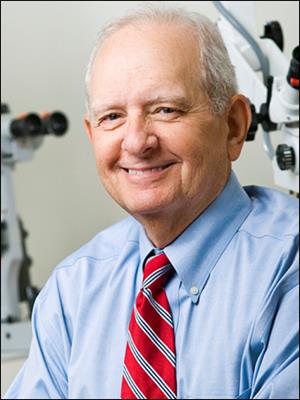 Dr. Leroy Howard retires after 40-year career
GREENVILLE, SC (Dec. 16, 2014) — Dr. Leroy Howard, a Greenville ophthalmologist for 40 years, has retired effective December 16, 2014.
Dr. Howard began his career in Greer and later started his own practice at 4200 E. North St., Greenville. Dr. Howard was one of the first surgeons in the state to perform procedures that have been the precursors to modern cataract surgery. He sold his practice to Clemson Eye seven years ago and it has operated from his original building since then. Dr. Howard remained on staff.
"Clemson Eye wants to thank Dr. Howard for his contributions to the practice and his dedication to the visual health of our patients," said Mary Lou Parisi, Clemson Eye CEO.
Current patients are encouraged to contact any of the four Upstate offices for appointments with one of our other eye doctors.
Over the course of his career, Dr. Howard was committed to treating the total patient. Upon his retirement, he said, it was his patients he would miss the most.
A Citadel graduate and Vietnam veteran, Dr. Howard was awarded several medals for meritorious service and bravery, including the Bronze Star.
He and his wife, Marie, are active members of St. Mary's Church in Greenville, and also enjoy sports, music and travel.
Click here to view and download this article in PDF
###
Clemson Eye has been a leading provider of visual health for Upstate residents for the past 40 years, providing them with comprehensive ophthalmologic and Lasik services. Clemson Eye has five locations in Greenville, Anderson, Easley, Clemson, and a Lasik center, Spectrum Lasik, in Greenville. Its American Board Certified Ophthalmologists have performed more than 50,000 cataract, Lasik and microsurgical procedures.