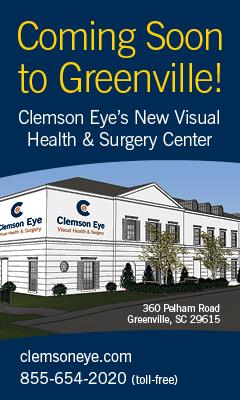 Clemson Eye's New Visual Health Center Moves Forward
GREENVILLE, SC (March 16, 2015) — Clemson Eye is building a new visual health and surgery center to better serve the Greenville area.
"We are expanding to better serve our patients in Greenville. We've been a leading provider of eye care for residents in the Upstate for more than 40 years now, so building this new state-of-the art facility in Greenville is a major milestone for our practice.
"All our service lines in Greenville – comprehensive ophthalmology, laser procedures, Lasik and medical aesthetics – will soon be available at one, convenient location on 360 Pelham Road," said Mary Lou Parisi, CEO, Clemson Eye.
The 18,500-square-foot facility has been in the planning stages for almost five years. "Finding the right location was critical," says Parisi. The visual health and surgery center will capitalize on its location in the foothills of the Blue Ridge Mountains.
"Our Lasik recovery areas are designed so that when patients open their eyes and sight begins to return, they will see the beauty of the mountain panorama through clear new vision," she added.
Several eye doctors will work at this new facility including founders Joseph Parisi, MD, FACS and Donald Glaser, MD. The center will include 11 treatment rooms, a surgical suite, a Lasik suite, a medical aesthetics suite, and a retail area for eyeglasses and contacts.
The facility was designed by RSCT Architecture and Michael Craig Sherill Designs. The general contractor is Trehel Corporation.
The ground breaking will be in April, with construction expected to be completed by late 2015. At that time, the current Clemson Eye clinic on East North St., and the Spectrum Lasik clinic on Pelham Rd., both in Greenville, will move to the new 360 Pelham Road eye care center. In addition, the Spectrum Lasik name will be consolidated under the single Clemson Eye practice name and brand.
###
Clemson Eye has been a leading provider of visual health for Upstate residents for the past 40 years, providing them with comprehensive ophthalmologic and Lasik services. Clemson Eye has five locations in Greenville, Anderson, Easley, Clemson, and a Lasik center, Spectrum Lasik, in Greenville. Its American Board Certified Ophthalmologists have performed more than 50,000 cataract, Lasik and microsurgical procedures.