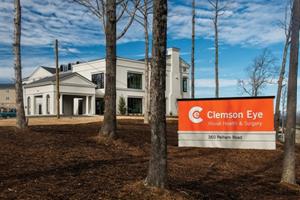 Clemson Eye's New Greenville Center is Now Open
GREENVILLE, SC (January 13, 2016) – Clemson Eye, a leading provider of visual health services in the Upstate, is excited to announce the opening of its new Visual Health & Surgery Center in Greenville at 360 Pelham Road.
The 18,500-square-foot facility has 11 treatment rooms, a surgical suite, a LASIK suite, a medical aesthetics suite and a retail area for eyeglasses and contacts. The new center will consolidate the ophthalmology practice formerly located at 4200 East North St. and the LASIK practice, formerly known as Spectrum Lasik, in a single location.
A full array of general ophthalmology services is available, including comprehensive eye exams, vision correction, and treatment of eye diseases. Clemson Eye provides advanced surgical techniques to treat cataracts, glaucoma, diabetic eye disease and macular degeneration, as well as vision correction options such as LASIK, implantable contact lenses and corneal inlays.
The new facility is situated and custom designed to provide patients with panoramic views of the Blue Ridge Mountains after their vision correction surgery.
"Our new facility has been on the drawing board for several years. We are thrilled to see it become a reality, consolidating our services in Greenville under one roof, and creating a center where patients of all ages are comfortable and well cared for by medical professionals using the latest in innovative eye care techniques and technologies," said Clemson Eye CEO Mary Louise Parisi.
The Greenville team is led by Clemson Eye's Chief Ophthalmologist and Medical Director, Dr. Joseph Parisi. Drs. Donald Glasser, Eric Brown and Kara Dodgens also see patients at the new facility.
Clemson Eye is accepting new patients. Please call (855) 654-2020 for an appointment. View map for directions. In addition to the new Greenville center, Clemson Eye has clinics in Clemson, Anderson and Easley.