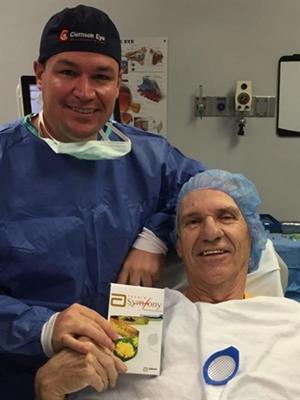 Clemson Eye first to implant 'game changing' lens
GREENVILLE, SC (Sept. 22, 2016) – A new intraocular lens (IOL) that provides a full range of vision for cataract patients, even those with astigmatism, has been implanted by Clemson Eye surgeon Dr. Brian Johnson.
The Symfony lens, approved just in July for use in the US, is a "game changer," according to Dr. Johnson. In the past, patients with significant astigmatism were only candidates for monofocal lens implants that would correct either distance or near vision, but not both. Symfony is the first extended focus lens with astigmatism correction. This allows excellent night vision and clear vision from near out to distance.
IOLs have been the mainstay of cataract surgery but technology improvements like the Symfony have continued to improve vision across a range of distances and conditions. The two most significant improvements are vastly improved intermediate vision and an extended range of vision acuity for patients with astigmatism.
The Symfony has been in use in 49 countries for several years, but the FDA approval came after a randomized clinical trial of 148 patients. In that trial, 77 percent of Symfony patients had 20/25 vision at intermediate distances, compared with 34 percent who had a traditional mono-focal lens. Near vision for reading was improved and patients were able to read two levels of smaller lines than their mono-focal counterparts.
"Patients who have received these have been very excited and pleased with how their lifestyles have improved," Dr. Johnson notes. "These lenses are ideal for patients who have an active lifestyle. They meet the needs of our patients who like to golf, use a computer or tablet, shop, use a smartphone, and drive at night."
The Symfony is the latest innovative technology Clemson Eye has been the first to bring to the Upstate. They include the Kamra inlay, a groundbreaking technology that restores near vision to patients with presbyopia; the iStent, a microdevice to treat Glaucoma patients by relieving pressure buildup in the eye; and diagnostic tools like the Cassini and Contoura that provide much more advanced and detailed mapping of the eye to enhance effective LASIK and cataract surgery and improve outcomes.
Clemson Eye has been a leading provider of visual health for Upstate residents for the past 40 years, providing them with comprehensive medical and surgical eye care, LASIK, and aesthetics services. Clemson Eye has four convenient locations in Greenville, Anderson, Easley and Clemson. Its American Board-Certified Ophthalmologists have performed more than 50,000 cataract, LASIK and microsurgical procedures.