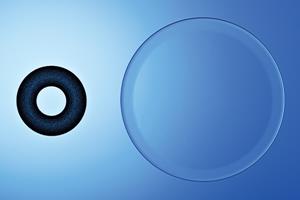 Clemson Eye First in the Upstate to Implant Kamra Inlay
GREENVILLE, SC (March 19, 2016) – The Kamra™ inlay, a tiny porous ring that is placed in the cornea and works like a camera aperture, returning reading vision to patients, was implanted for the first time in the Upstate yesterday by Clemson Eye's Medical Director and Chief Ophthalmologist, Dr. Joseph Parisi.
The Kamra inlay was approved by the FDA in April 2015, and Clemson Eye is the first eye care clinic in the Upstate to offer the procedure. More than 1,500 have been implanted in the United States since FDA approval, and more than 37,000 have been implanted worldwide over the past 10 years.
Almost 114 million people in the U.S. struggle with presbyopia, a natural age-related vision loss that reduces the eye's ability to focus on near objects, resulting in blurry near vision, and the frustration of having to use reading glasses.
The elective procedure takes just 15 minutes in most cases and is reversible if the patient chooses. Unlike monovision with LASIK or contact lenses, which can significantly compromise your distance vision, the Kamra restores near vision, while maintaining distance vision and depth perception. Note even patients who have had previous eye surgery, such as cataract patients, or who wear bifocals can be candidates for reading vision correction with the Kamra.
There are specific requirements to qualify patients for procedure and Clemson Eye has several advanced technology tools to measure and assess each patient's candidacy.
"Clemson Eye is focused on caring for our patients' vision and offering them the best options, delivered with cutting edge technology, by world-class surgeons. The Kamra inlay is the newest in a long line of innovative tools we have brought to our patients in the Upstate," notes Clemson Eye CEO, Mary Lou Parisi.
-30-
Clemson Eye has been a leading provider of visual health for Upstate residents for the past 40 years, providing them with comprehensive medical and surgical eye care, LASIK, and aesthetics services. Clemson Eye has four convenient locations in Greenville, Anderson, Easley and Clemson. Its American Board-Certified Ophthalmologists have performed more than 50,000 cataract, LASIK and microsurgical procedures.