BOTOX® Cosmetic, JUVÉDERM®, KYBELLA®, PRF, Restylane®, Sculptra
BOTOX® Cosmetic
BOTOX® Cosmetic helps decrease those "distressed" lines between your eyes (glabella), soften your eyes' smile lines (crow's feet), and lift your eyebrow. It can smooth the lines on your forehead and the 'bunny lines' on the sides of your nose. In addition, Botox can give your smile a lift and smooth your dimpled chin. Botox is a natural purified protein. When injected, it temporarily relaxes the facial muscles that cause wrinkles. It leaves you looking fresh and natural.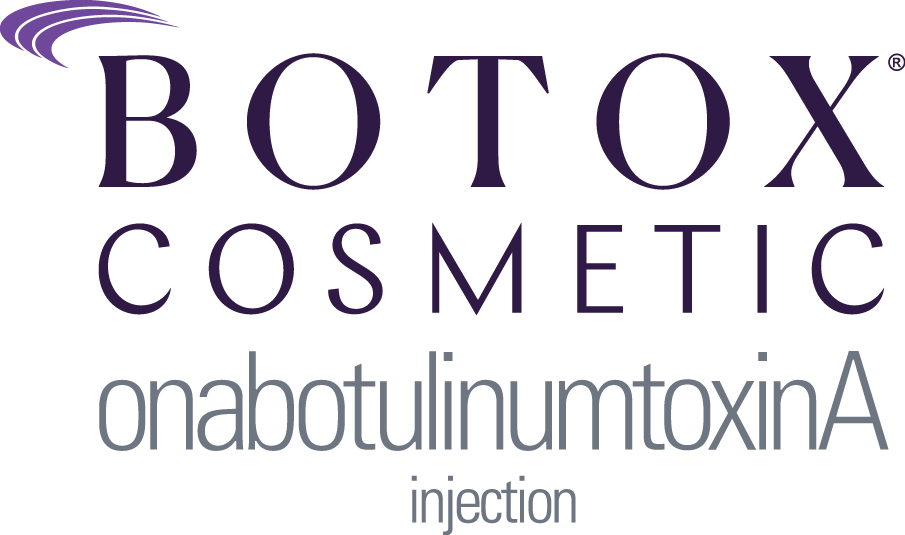 Before & After Photos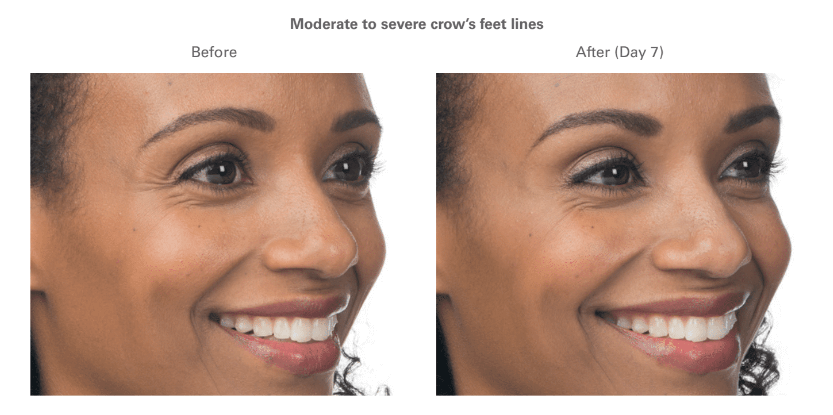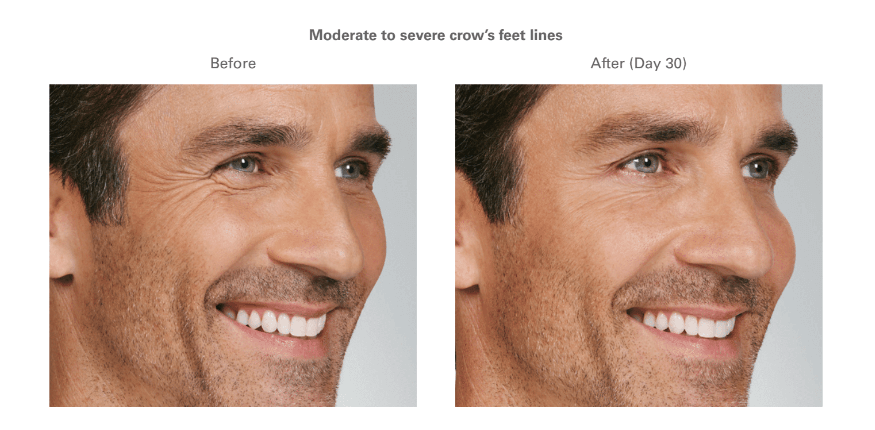 JUVÉDERM®
JUVÉDERM® XC and XC PLUS
JUVÉDERM® XC is a gel filler that instantly smooths away wrinkles around your mouth and nose – your smile lines. With just one treatment, you'll get smooth and natural-looking results that last up to a year. It is now infused with lidocaine, an anesthetic, which greatly improves comfort during treatment. You won't believe the results. JUVÉDERM® XC PLUS injectable gel is a colorless hyaluronic acid gel that contains a small quantity of local anesthetic (lidocaine) and is injected into facial tissue to smooth wrinkles and folds, especially around the nose and mouth. Hyaluronic acid is a naturally occurring sugar found in the human body. The role of hyaluronic acid in the skin is to deliver nutrients, hydrate the skin by holding in water, and act as cushioning.
JUVÉDERM VOLUMA™ XC
JUVÉDERM VOLUMA™ XC is the first and only gel filler for the treatment of the cheekbone area to correct age-related volume loss. It gives you a subtle lift, helping to restore contour and a more youthful profile, for up to two years. This product helped revolutionize how providers present filler. Now we fill and lift the cheeks because fullness is youthfulness. This can take up to five years off your age.
Before & After Photos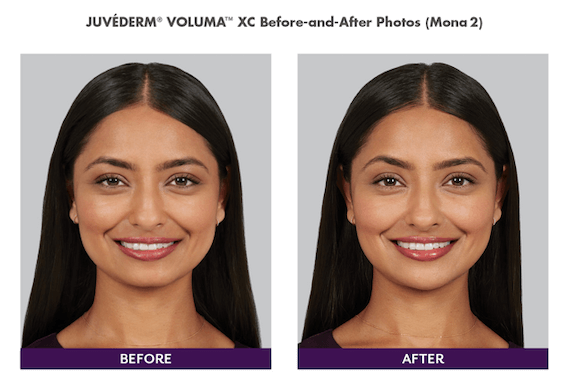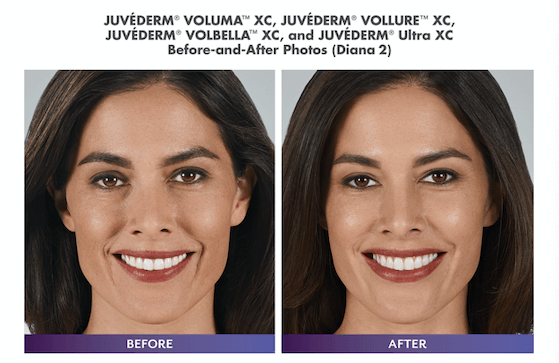 What is KYBELLA® (deoxycholic acid) injection 10 mg/mL?
KYBELLA® is a prescription medicine used in adults to improve the appearance and profile of moderate to severe fat below the chin (submental fat), also called "double chin." Kybella is the only FDA-approved injectable treatment for adults that destroys fat cells under the chin to improve your profile – whether you have a moderate amount of chin fullness or a bit more. To learn more about this treatment, click here.

PRF
Platelet Rich Fibrin (PRF) is one of the most innovative treatments in medical aesthetics. PRF is an all-natural, rejuvenating treatment for areas in the face that show the first signs of aging.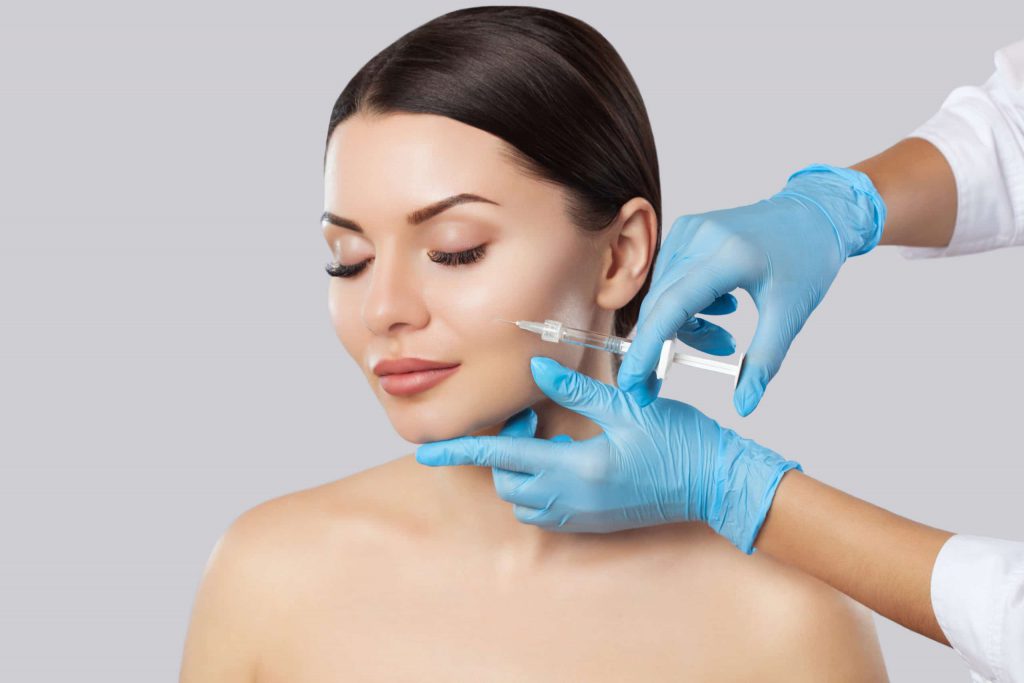 PRF Treatment:
Reduces fine lines and wrinkles to improve your skin complexion
Improves under-eye loose skin and surrounding wrinkles
Increases blood flow and moisture to your skin improving complexion and tone
And so much more
How It Works:
PRF uses your own natural growth factors (platelets and white blood cells) to improve your skin's complexion and increase hyaluronic acid (HA) and collagen production.
Boosted collagen and HA result in a reduction in fine lines and a more tightened and brightened skin tone. After about 15-20 minutes of being isolated and injected, PRF becomes a gel that stays longer in the injected area compared to other treatment options that are quick to dissolve.
Treatment Details:
The treatment is extremely safe with no major side effects, and 100% natural! Results of PRF typically last up to an entire year. Most are great candidates for PRF treatments, depending on individual concerns.
PRP vs PRF:
PRP and PRF have the same end goal but the process is different. PRF has been proven to be superior and more efficient than PRP due to
its capacity to release the growth factors over time, encouraging longer-term benefits. PRF is injected into the deeper layers of skin for long-lasting results, where PRP only reaches the superficial layers of the skin.
Restylane®
Restylane is made of hyaluronic acid, a safe ingredient likely already in your skincare routine. It is a clear liquid that can be injected into the skin to treat tear troughs, nasolabial folds, and other moderate to severe wrinkles.
Restylane® Defyne and Restylane® Refyne
Refyne and Defyne are part of the Restylane family of products from Galderma. Much like other fillers, they are formulated hyaluronic acid dermal fillers that are specifically used to correct smile lines for a more natural and youthful-looking face.
As our skin loses elasticity with age, some facial lines become more noticeable. The lines that run from the sides of your nose toward the corners of your mouth (nasolabial folds) and the lines that run from the corner of your mouth toward the chin (marionette lines) can become more defined. Refyne and Defyne are perfect for these areas because they are more flexible and suited for areas of the face with more movement.
The main difference between the two is that Restylane Refyne treats mild to moderate lines and wrinkles, while Restylane Defyne is used to treat moderate to severe smile lines. Both fillers last up to 12 months.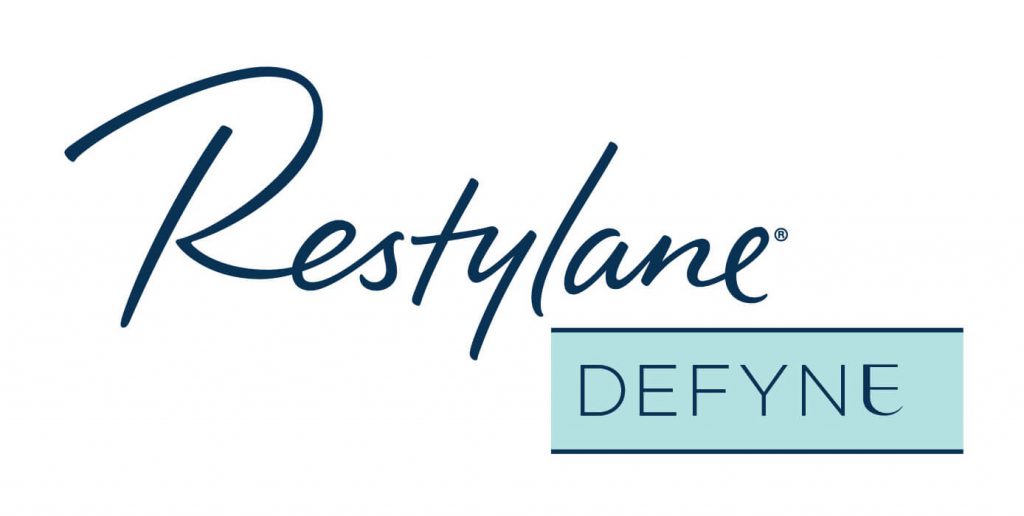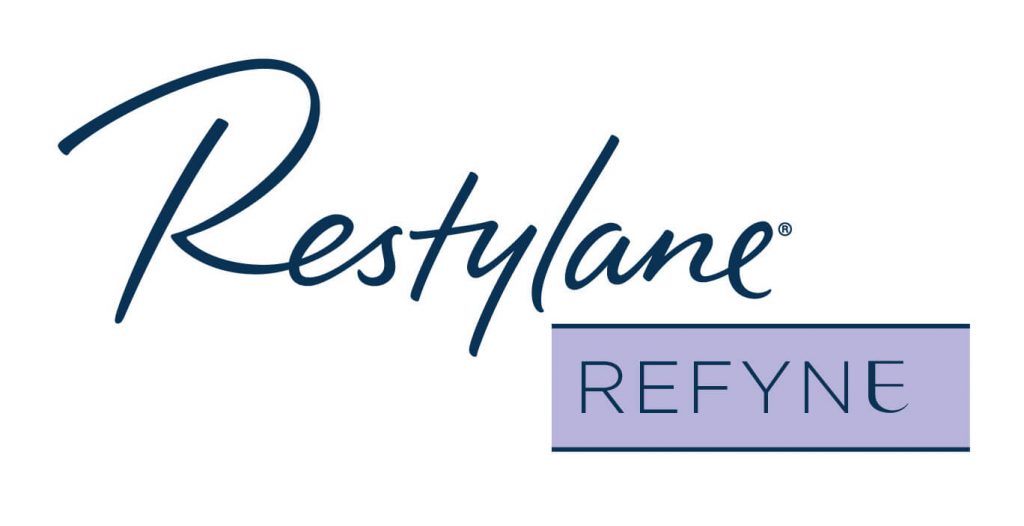 Restylane-L®
This safe, effective dermatologic procedure involves the injection of Restylane, a gel formulation containing hyaluronic acid, beneath the eyes. The result of Restylane tear trough treatment is improved under-eye skin fullness and less prominent tear troughs. In turn, these effects lead to a more "awake" and youthful appearance.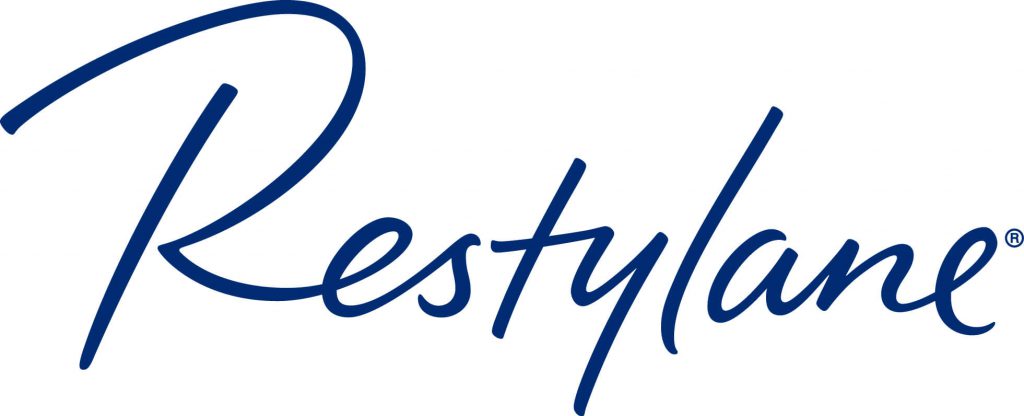 Restylane® Kysse
One of our most popular lips fillers, Restylane Kysse is the first lip filler designed with XpresHAn Technology™ for flexible movement and natural-looking volume proven to last for up to 1 year. Kysse will help enhance the texture and color of the lips while maintaining a full range of expressions.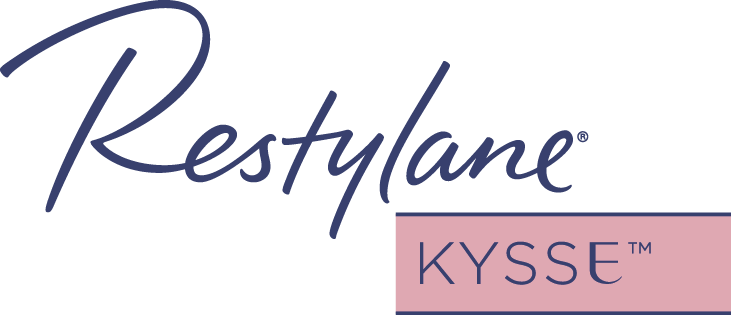 Restylane® Lyft
Restylane® Lyft is the first and only hyaluronic acid filler FDA-approved to treat your face and hands. Help complete your aesthetic look with natural-looking volume in your cheeks and hands for a smoother, fuller appearance. Restylane® Lyft is a safe, effective and dissolvable HA filler. Treatment can be administered in your hands and face at the same appointment — and can result in a more youthful-looking appearance.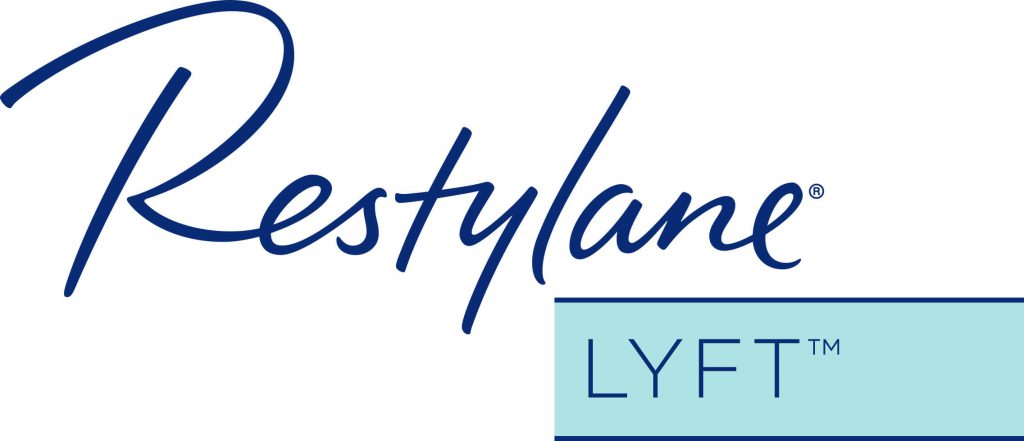 Restylane® Silk
Also used to treat the lips, Restylane Silk helps smooth out wrinkles in the lips, allowing for a silkier finish. Treatment can last up to 6+ months.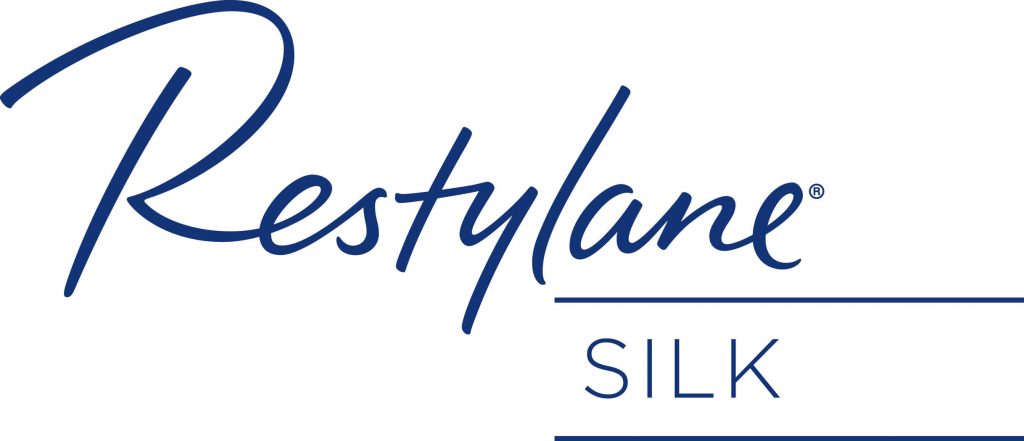 Sculptra
Sculptra is an injectable cosmetic filler that can be used to restore facial volume lost due to aging or illness. It contains poly-L-lactic acid (PLLA), a biocompatible synthetic substance that stimulates collagen production. It can be used to treat deep lines, creases, and folds to give a more youthful appearance.