Our eyes need tears to stay healthy and comfortable. If your eyes do not produce enough tears, it is called dry eye. Dry eye disease is a multi-factor disease that affects an estimated 25 million people in the United States alone. It is one of the most common reasons that people visit their eye care professional.
Diagnosing Dry Eye
How do tears work?
TearLab Osmolarity Test
Why is it important to diagnose and treat dry eye disease?
How will having the TearLab test benefit you?
What is MGD?
What is LipiView®?
Diagnosing Dry Eye
The increasing prevalence of dry eye disease is why Clemson Eye strives to be a Dry Center of excellence. As such, our staff is trained to provide the highest quality of dry eye care using advanced diagnostic techniques and treatments. There are multiple kinds of tests used to approximate the level of dry eye disease a patient may have. But we use what we believe to be the best and most accurate: the LipiView and TearLab test.
How do tears work?
When you blink, a film of tears spreads over the eye. This keeps the eye's surface smooth and clear. The tear film is important for good vision. The tear film is made of three layers:
An oily layer
A watery layer
A mucus layer
Each layer of the tear film serves a purpose. The
oily layer
is the outside of the tear film. It makes the tear surface smooth and keeps tears from drying up too quickly. This layer is made in the eye's
meibomian glands
. The
watery layer
is the middle of the tear film. It makes up most of what we see as tears. This layer cleans the eye, washing away particles that do not belong in the eye. This layer comes from the
lacrimal glands
in the eyelids. The
mucus layer
strong> is the inner layer of the tear film. This helps spread the watery layer over the eye's surface, keeping it moist. Without mucus, tears would not stick to the eye. Mucus is made in the
conjunctiva
. This is the clear tissue covering the white of your eye and inside your eyelids. Normally, our eyes constantly make tears to stay moist. If our eyes are irritated, or we cry, our eyes make a lot of tears. But, sometimes the eyes don't make enough tears or something affects one or more layers of the tear film. In those cases, we end up with dry eyes.
TearLab Osmolarity Test
One of the latest devices in dry eye technology is the TearLab Osmolarity System. By using TearLab, we can quickly and painlessly measure a small sample of a patient's tears to determine how dry they truly are. TearLab is the first objective and quantitative test for diagnosing and managing dry eye patients. Using the slightest nanoliter of tear fluid, the osmolarity data allows us to understand the 'level' of disease – is it mild, moderate or severe dry eye you're experiencing. Your tear number also allows us to determine the best treatment for you. How will the test be performed? The TearLab osmolarity test uses a pen designed to hold the test card and facilitate pain-free, simple tear fluid collection. Using a mechanical, electrical interface, the pen conveys data to the TearLab reader automatically when docked. About the TearLab Osmolarity Test The TearLab measures the salt content in your eyes and is the gold standard for objectively diagnosing dry eye disease. Your specific osmolarity number is generated by TearLab's 'lab on a chip technology'. This unique number helps your doctor determine whether you have dry eye disease, and if so, whether you fall into the mild, moderate or severe category.
Why is it important to diagnose and treat dry eye disease?
For some, dry eye symptoms such as itchy, burning, stinging eyes may seem like a mere nuisance. However, if left untreated, dry eye disease can have serious consequences including:
Permanent corneal scarring
Corneal ulcers
Increased susceptibility to eye infections
How will having the TearLab test benefit you?
Expect fast and accurate results using only 50 nanoliters of tear film to diagnose dry eye disease.
The osmolarity data allows your eye doctor and you to understand your individual level of disease.
The ability to compare and track osmolarity results at different stages of the disease aids in your dry eye treatment.
What is MGD?
MGD (Meibomian gland dysfunction) is one of the most common diseases observed in clinics and is the leading cause of evaporative dry eye.
MGD occurs when the protective oil that normally flows from the eyelid glands slows or stops. Over time, blockage and structural damage of the glands occurs.The oil acts as the front line of protection for the tears and lubricates the surface of the eyes when you blink.
When these glands are not healthy, it causes the tear film to rapidly evaporate, leaving the eye's surface exposed. This exposure can cause discomfort that increases over time and impacts quality of vision, which can result in irritating dry eye symptoms.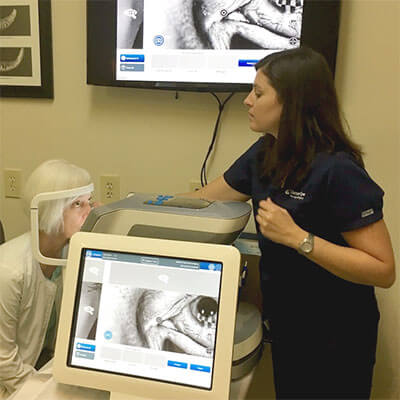 What is LipiView®?
LipiView® is a non-invasive device that is used to get an accurate digital picture of a patient's tear film and used to measure the lipid content and quality.
LipiView® is a standard eye examination procedure that provides proper diagnosis, helping the eye doctor arrive at a more verifiable conclusion, whether the patient will need a Lipiflow procedure or must undergo other dry eye therapy treatments intended for curing anyone with dry eye condition.
---
Treating Dry Eye
If you have dry eyes, many different treatments are available to maintain moist and healthy eyes. Your doctor can help you develop a treatment plan that is right for you.
---
Call for a Dry Eye Test
If you've been experiencing recurring dry eye symptoms including: itching, burning and discomfort, be sure to schedule a TearLab test with us. Clemson Eye specializes in diagnosing and treating dry eye syndrome.
For your comprehensive dry eye examination, please call us 855‑654‑2020 (toll-free).
For more information call 855-654-2020 today or click here to schedule an appointment.